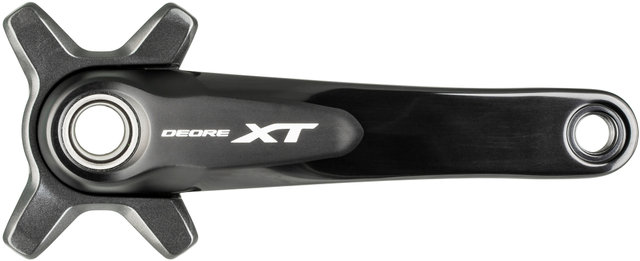 The XT crankset FC-M8000-1 by Shimano - rider tuned and versatile
The Shimano XT FC-M8000 11-speed crank is characterised by durability, stiffness and its low weight. It can be ridden as FC-M8000-1 with a single chainring (not included) and then fully benefits from the advantages of Dynamic Chain Engagement+ technology for optimised chain retention. However, two chainrings can also be installed (FC-M8000-2,
available separately
as a complete crankset). The " Rider Tuned" principle, according to which Shimano wants to provide the right set-up for every type of rider and every terrain, is also evident here. The FC-M8000 aluminium crank has been designed according to the well-known Hollowtech II design with a fixed 24 mm axle for maximum stability and balance. Four chainring bolts are supplied.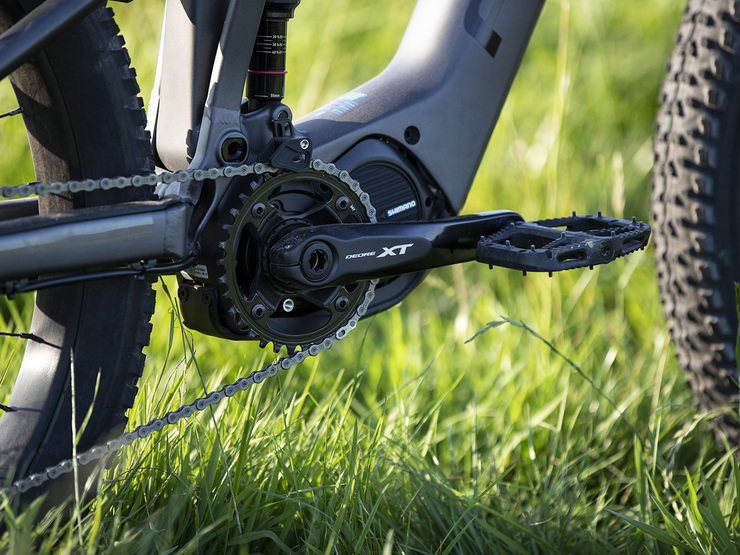 Specifications:
Application:

Cross Country, All Mountain

Compatibility:

1x, 2x

Chainring Mount:

96 mm pitch circle, 4-arm asymmetrical
Technical Information:
Series:

Deore XT M8000

Crank Arm Material:

Aluminium

Axle Material:

steel

Crank Arm Length:

165.0 mm, 170.0 mm, 175.0 mm, 180.0 mm

Chainline:

50.4 mm (1x), 48.8 mm (2x)

Q-Factor:

176 mm

Axle Diameter:

24 mm

Compatible BSA Shell Width:

68 mm / 73 mm

Recommended Bottom Bracket:

BB-MT800 or BB-MT800-PA Press Fit Hollowtech II (not included)

Recommended Chain:

HG-X11 (e.g. CN-HG701-11)
Compatibility:
MTB 11-speed
:
Rear Over Locknut Dimension:
Shifter:

SL-M9000, SL-M8000, SL-M7000, SL-M5100, SW-M9050, SW-M8050 (for 2x)

Front Derailleur:

FD-M9020, FD-M9025, FD-M8020, FD-M8025, FD-M7020-11, FD-M7025-11, FD-M5100, FD-M9070, FD-M8070 (for 2x)

Bottom Bracket:

SM-BB93, SM-BB80, BB-MT801, BB-MT800, SM-BB52, BB-MT501, BB-MT500, SM-BB94-41A, BB-MT800-PA, BB-MT500-PA
Chainrings:
1x: SM-CRM81
2x: Y-1RL24000, Y-1RL26000, Y-1RL28000, Y-1RL98070, Y-1RL98080, Y-1RL98090
Chain:

CN-HG901-11, CN-HG701-11, CN-HG601-11, CN-LG500
Features:
" Rider Tuned" 11-speed drivetrain for universal use
" Ride Anywhere" : different options for a variety of bikes and applications
durability and low weight optimally combined
improved stiffness of the drivetrain
70 degree arrangement of the four spider arms with Hollowtech II technology and Dynamic Chain Engagement
anodised crank arms
aluminium chainring bolts
Technology:
Dyna-Sys11
Dyna-Sys11 is the name of the 11-speed shifting system for MTBs from Shimano. The focus lies on maintaining the pedalling rhythm both on flat ground and on uphill segments. The gear ratios are selected so that you make efficient progress in the most frequently used gear range and do not have to shift gears as much (" Rhythm Step" ).
Hollowtech II
Shimano Hollowtech II is a crank bottom bracket system designed to achieve an ideal ratio of stiffness, weight and rotational efficiency. It is based on an integration of the bottom bracket and the right crank arm and works with a 24 mm axle or bearing diameter, which has proven to be optimal in terms of stability. In many cases, the bearing cups are on the outside so that the load is better distributed. High-quality precision seals ensure a long service life.
Manufacturer Numbers:
165.0 mm:

I-FCM8000AXX

170.0 mm:

I-FCM8000CXX

175.0 mm:

I-FCM8000EXX

180.0 mm:

I-FCM8000GXX
Contents:
1 x Shimano XT FC-M8000 crank
1 x Shimano crank bolt
4 x chainring bolts
100 day return period

Online since 1998

Trusted Shop

4.89

/ 5.00