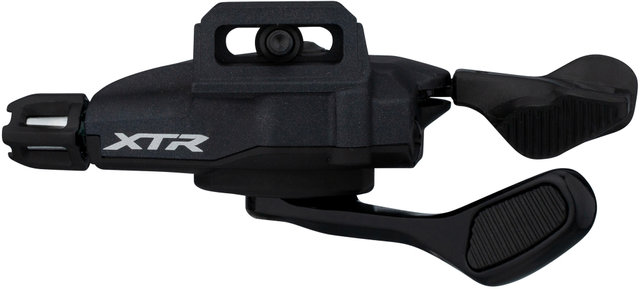 Shimano XTR SL-M9100-I 12-speed Shifter w/ I-Spec EV
The XTR SL-M9100-I shifter by Shimano - increased adjustment range thanks to I-Spec EV
With the XTR SL-M9100-I 12-speed shifter, Shimano brings I-Spec EV technology into play. This design allows combined mounting of the shift and brake levers and thus increases the area available for ergonomic, customised cockpit design. For example, the SL-M9100-I can be adjusted by 14 mm in longitudinal alignment and by 60° in rotation. As with the clamp version, Shimano has once again improved the intuitive and smooth operability to allow the rider to focus solely on racing. The levers, consisting of aluminium and carbon, are faster to reach than on the predecessor M9000, and much less effort is required to shift gears. The two rubber contact surfaces provide more grip and the 4x bearings stand for smooth, long-lasting function.
Of course, proven technologies such as Rapidfire Plus - shifting down several gears at once - and 2-Way Release - operation with the index finger (pulling) or thumb (pushing) - have been retained. The XTR shifter also features Instant Release for super-fast shifting and Multi Release for the fastest possible gear changes in both directions. A polymer-coated cable and a cable housing are included.
Specifications:
Series:

XTR M9100

Application:

Cross Country, Enduro

Gearing:

12-speed

Mount:

I-Spec EV
Technical Information:
Type:

Rapidfire Plus

Body Material:

Aluminium

Lever Material:

aluminium (main lever), carbon (CFRP, release lever)

Cable:

stainless steel, polymer coating

Cable Housing:

OT-SP41
Adjustment Options:
cable adjust
position adjust
shift lever rotation adjust
Compatibility:
MTB 12-speed
:
Rear Derailleur:

RD-M9100, RD-M8100, RD-M7100, RD-M6100, RD-M9120, RD-M8120, RD-M7120

Cassette:

CS-M9101-12, CS-M9100-12, CS-M8100-12, CS-M7100-12, CS-M6100-12

Chain:

CN-M9100, CN-M8100, CN-M7100, CN-M6100

Brake Lever:

I-Spec EV
Features:
max. number of gears per shift: 4 (main lever, rear)
Lever is 20% faster to reach, 35% lower shifting force (compared to M9000), for continuous concentration when riding
greater flexibility and action-optimised cockpit layout
4x ball bearing construction for easier shifting
2 rubber contact surfaces
painted body and main lever
stainless steel clamp bolts
Technology:
Rapidfire Plus
Rapidfire Plus is a type of Shimano shift lever construction that has been common in the mountain bike sector since 1985. Two levers, the main lever and the release lever, are used instead of a twist shifter. Rapidfire Plus shift levers, as the name suggests, ensure fast shifting. In addition, depending on the model, it is possible to downshift up to three gears with one shift stroke.
2-Way-Release
With 2-Way-Release, the shifter can be pressed and pulled to shift to the smaller sprocket or chainring. This allows you to adjust the shifting process to your personal preferences. Most Rapidfire Plus shifters are equipped with 2-Way Release.
Instant Release
With Instant Release, the spring and thus the cable are released immediately when the lever is actuated, which ensures an enormously fast shifting process. The delay caused by a two-step shifting process with click and release is eliminated, so that the gear change is considerably accelerated and improved.
Multi Release
With the Multi Release, which only affects the right-hand shift lever, two gears can be shifted with one actuation of the release lever without loss of shifting speed. This is independent of whether you use a Top-Normal or a Low-Normal rear derailleur.
I-Spec EV
I-Spec EV describes a variant of the connection between brake lever and shift lever on Shimano MTB derailleurs. This type of mounting allows the shifter to be adjusted both horizontally and vertically in relation to the brake lever, and ensures a tidy cockpit by reducing the number of clamps required. Compared to I-Spec and I-Spec II, I-Spec EV offers a much wider adjustment range. 14 mm adjustment range the longitudinal direction and up to 60° rotation allow an optimal ergonomic adjustment to your riding style, your sitting position and your anatomy.
Models:
12-speed:
Mount:

right

Manufacturer Number:

I-SLM9100IRAP
Contents:
1 x Shimano XTR SL-M9100-I shifter
1 x Shimano cable (2050 mm)
1 x Shimano cable housing (1800 mm)
100 day return period

Online since 1998

Trusted Shop

4.89

/ 5.00