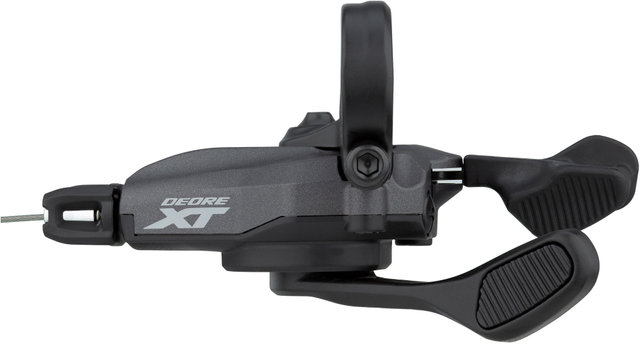 Shimano XT SL-M8100 12-speed Shifter w/ Clamp
The Shimano XT SL-M8100 shifter scores with low friction use
The Shimano XT SL-M8100 12-speed shifter (clamp version) is much easier to operate and is clearly more accessible than its predecessor. This increases focus and control while riding. The Shimano 2-Way Release Technology ensures delay-free pushing and pulling movements.
Guidelines for Replacing E-bike Components:
Before you replace components on your e-bike, please read through the
guidelines
for component replacement for CE-marked e-bikes/pedelecs with pedal assistance.
Specifications:
Series:

Deore XT M8100

Application:

Enduro, All Mountain, Cross Country

Gearing:

12-speed

Mount:

clamp (closed)
Technical Information:
Type:

Rapidfire Plus

Body Material:

Aluminium

Lever Material:

aluminium (main lever), composite material (GFRP) + steel (release lever)

Cable:

stainless steel (Optislick)

Cable Housing:

OT-SP41
Adjustment Options:
Compatibility:
MTB 12-speed
:
Rear Derailleur:

RD-M9100, RD-M8100, RD-M7100, RD-M6100, RD-M9120, RD-M8120, RD-M7120

Cassette:

CS-M9101-12, CS-M9100-12, CS-M8100-12, CS-M7100-12, CS-M6100-12

Chain:

CN-M9100, CN-M8100, CN-M7100, CN-M6100

E-Bike:

EP8 EP801, EP8 EP800 for MTB / Touring, EP6 for MTB / Touring, STEPS E8080 with mechanical rear derailleur

Handlebar Grip Outer Diameter:

max. 32 mm

Clamp Diameter:

22.2 mm
Features:
fast and easy shifting promotes focus and control
max. number of gears per shift: 4 (main lever, rear)
faster lever access (20% faster than SL-M8000) and lower operating forces (35% less than SL-M8000)
delay-free function thanks to 2-Way Release
Optislick inner cable with a minimal galvanic coating for more efficient cable routing and corrosion resistance
rubber contact surface
double bearings
painted housing
stainless steel clamp bolts
Technology:
Rapidfire Plus
Rapidfire Plus is a type of Shimano shift lever construction that has been common in the mountain bike sector since 1985. Two levers, the main lever and the release lever, are used instead of a twist shifter. Rapidfire Plus shift levers, as the name suggests, ensure fast shifting. In addition, depending on the model, it is possible to downshift up to three gears with one shift stroke.
2-Way-Release
With 2-Way-Release, the shifter can be pressed and pulled to shift to the smaller sprocket or chainring. This allows you to adjust the shifting process to your personal preferences. Most Rapidfire Plus shifters are equipped with 2-Way Release.
Instant Release
With Instant Release, the spring and thus the cable are released immediately when the lever is actuated, which ensures an enormously fast shifting process. The delay caused by a two-step shifting process with click and release is eliminated, so that the gear change is considerably accelerated and improved.
Multi Release
With the Multi Release, which only affects the right-hand shift lever, two gears can be shifted with one actuation of the release lever without loss of shifting speed. This is independent of whether you use a Top-Normal or a Low-Normal rear derailleur.
Models:
12-speed:
Mount:

right

Manufacturer Number:

I-SLM8100RAP
Contents:
1 x Shimano XT SL-M8100 shifter
1 x Shimano cable (2050 mm)
1 x Shimano cable housing (1880 mm)
3 x 6 mm sealed end caps
1 x long nose end cap
100 day return period

Online since 1998

Trusted Shop

4.89

/ 5.00