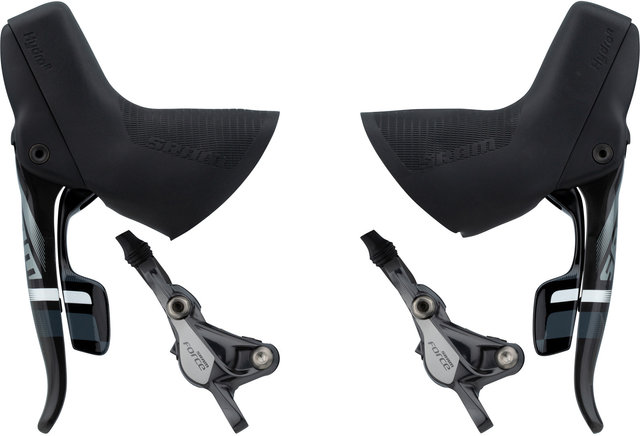 SRAM Force 22 DoubleTap® Hydraulic Disc Brake Set
Specifications:
Series:

Force 22 / Force 1

Application:

Road

Type:

disc brake, hydraulic

Mount:

post mount (IS with adapter)

Brake Rotor:

not incl. ( Centerline / 140/160 mm)

Actuation:

DOT 5.1

Pads:

sintered

Brake Lever:

DoubleTap® left shift/brake lever (front) or right (rear)

Hose Lengths:

950 mm (front), 1800 mm (rear)
Technical Information:
Brake Lever Material:

Carbon

Shift Lever Material:

aluminium

Calliper Material:

aluminium

Technology:

DoubleTap®, ErgoDynamics™, Reach Adjust, Zero Loss™
Compatibility:
SRAM Red 22 hydraulic system
SRAM Force 22 hydraulic system
SRAM Rival 22 hydraulic system
Models:
front / left:
Shift/Brake Lever: left
Brake Hose Length: 950 mm
Gearing: 2
Brake: front
Manufacturer Number: 00.7018.148.002
rear / right:
Shift/Brake Lever: right
Brake Hose Length: 1800 mm
Gearing: 11
Brake: rear
Manufacturer Number: 00.7018.148.001
Technology:
DoubleTap®
What is DoubleTap®? DoubleTap® is SRAM's key technology that replaces traditional technology. The combination of brake and shift lever has not proven itself. SRAM Red, SRAM Force, SRAM Rival and SRAM Apex have a brake lever that brakes and a shift lever that shifts.
The advantages of DoubleTap®: With DoubleTap® you shift faster and easier. There is only one direction of movement. A short tap is sufficient enough to upshift. To shift to a lower gear, simply push the lever further down.
How DoubleTap works®: the ingenious thing about DoubleTap® technology is the constant direction of movement of the gear lever. With a short, quick tap, the transport pawl moves the ratchet wheel upwards through the shift range. For a lower gear, the lever is moved a longer distance. In the process, the retaining and transport pawls jump over quickly and cleanly.
Free choice of grip position: the almost linear direction of movement of the DoubleTap® levers offers yet another advantage. The shift lever can be operated from almost any grip position. What's unique is that the shift lever can be pulled towards the handlebars like the trigger of a pistol! You can upshift in a sprint without releasing the handlebar grip.
Your advantage: The efficient, ergonomic design saves weight and offers more comfort. You can also shift gears while sprinting, which gives you a decisive advantage in competition and beyond. Our single-lever mechanism also enables faster and more precise shifting without having to alter your grip on the handlebars. DoubleTap® is the new way of shifting and thinking: Make the leap.
ErgoDynamics™:
This brake lever consists of three separate elements and will significantly improve your riding experience with SRAM DoubleTap® levers. The brake lever is slightly longer than the previous DoubleTap® levers and therefore easier to reach from the lower handlebar grips. The separate grip width adjustment on the brake and shift levers can be quickly and easily adjusted for any hand size. The top link has a completely new design with a smaller diameter and, thanks to its improved shape, is easier to control and grip.
Reach Adjust:
The fit and ergonomics of the brake lever is a very personal matter. Riders have individual position preferences as well as unique hand sizes and finger lengths. With the reach adjustment, the lever can be easily adjusted - for maximum control with just one finger.
Zero Loss™
ZeroLoss really means zero loss. When you use the lever to shift up or down a gear, the cable is immediately released, garantying zero loss of movement. There is no more idle time where you wait for the gear to engage. The shift is immediate and precise.
Contents:
1 pair of SRAM Force 22 disc brakes for front- and rear wheel
1 pair of SRAM Force 22 DoubleTap shift / brake levers®
incl. mounting material
ready to mount (filled & bled)
not incl. Centerline brake rotors
not incl. disc brake adapter
100 day return period

Online since 1998

Trusted Shop

4.89

/ 5.00