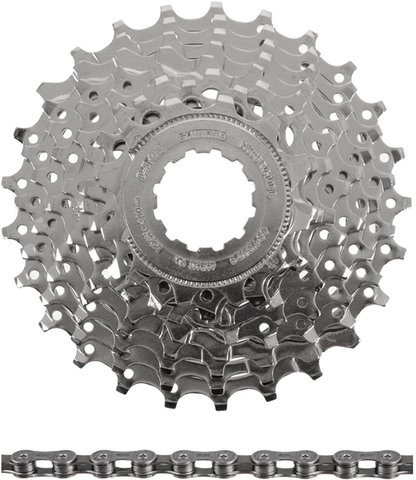 Shimano Tiagra/Sora Cassette CS-HG50 + CN-HG53 9-speed Chain Set
The Shimano Tiagra / Sora CS-HG50 + CN-HG53 Wear & Tear Set - More power for 9-speed drivetrains
This Shimano wear set for Tiagra and Sora groupsets consists of CS-HG50 9-speed cassette and CN-HG53 9-speed chain. With its modern drivetrain technologies, it ensures smooth gear changes even under load.
The Shimano CS-HG50-9 is a 9-speed cassette for Tiagra and Sora. It fits 8-/9-/10-speed Shimano Road/MTB freehubs and Road 11-speed freehubs with an additional 1.85 mm spacer (not required for MTB 11-speed). Thanks to Hyperglide (HG) technology, gear changes are fast, smooth and silent.
The Shimano CN-HG53 is a super slim 9-speed chain that enables smooth shifting even under load thanks to Hyperglide (HG) technology. It is suitable for MTB, touring and road bike use. There is no directional binding.
Specifications:
Application:

Road, City

Gearing:

9-speed

Freehub Compatibility:

Shimano MTB

Note:

compatible with Shimano Road 11-/12-speed using a 1.85 mm spacer
Technical Information - Cassette:
Series:

Tiagra 4500, Sora

Sprocket Material:

steel
Technical Information - Chain:
Number of Links:

114

Closure Type:

silver chain pin (ampoule type)

Pin Type:

chromium-plated, solid

Directional:

no

Material:

steel
Compatibility:
Shift/Brake Lever:

ST-R3000, ST-3500, ST-R350

Shifter:

SL-R3000, SL-3500, SL-R350

Front Derailleur:

FD-3500, FD-R3000, FD-R3030, FD-3503, FD-R353

Crank:

FC-R3000, FC-3550, FC-R350, FC-R450, FC-R345, FC-R3030, FC-R3030, FC-3503, FC-R453

Rear Derailleur:

RD-R3000, RD-3500, RD-R350
Features:
Cassette:
HG cassette with nickel-plated steel sprockets
stable performance
wide ratio range for 9-speed
efficient drivetrain with easy maintenance
good responsiveness for different riding styles
nickel-plated lockring
Chain:
super narrow HG 9-speed chain for 2x9, 3x9
for all Shimano 9-speed drivetrains (MTB and Road)
for Shimano 8-speed Linkglide drivetrains and Shimano Alfine
precision machined for durability, reliability and optimum shift performance
minimum tolerances
optimised for HG sprockets
fast and precise rear shifting, especially when downshifting
outer plate coating grey, inner plate coating brown
performance indicator: Select (level 1 out of 3)
Models:
11-30:
Gradation:

11-12-14-16-18-20-23-26-30 t

Manufacturer Number:

I-CSHG509130 (cassette) + E-CNHG53114I (chain)
11-32:
sold-out
Gradation:

11-12-14-16-18-21-24-28-32 t

Manufacturer Number:

I-CSHG509132R (cassette) + E-CNHG53114I (chain)
12-23:
sold-out
Gradation:

12-13-14-15-16-17-19-21-23 t

Manufacturer Number:

I-CSHG509223 (cassette) + E-CNHG53114I (chain)
12-25:
Gradation:

12-13-14-15-17-19-21-23-25 t

Manufacturer Number:

I-CSHG509225 (cassette) + E-CNHG53114I (chain)
13-25:
Gradation:

13-14-15-16-17-19-21-23-25 t

Manufacturer Number:

I-CSHG509325 (cassette) + E-CNHG53114I (chain)
14-25:
Gradation:

14-15-16-17-18-19-21-23-25 t

Manufacturer Number:

I-CSHG509425 (cassette) + E-CNHG53114I (chain)
Contents:
1 x Shimano Sora CS-HG50-9 cassette
1 x Shimano CN-HG53 chain
1 x Shimano steel lockring
1 x chain pin
100 day return period

Online since 1998

Trusted Shop

4.89

/ 5.00