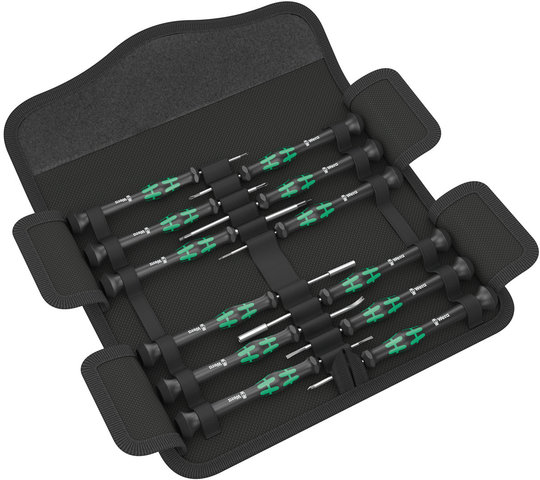 Wera Electrician's Micro 12 Power Screwdriver Set
High-quality micro screwdriver set from Wera for precision mechanical screwdriving. By resting the hand on the rotating cap and through the quick-turning zone below the rotating cap, lightning-fast work is possible and time-consuming awkward fumbling is no longer necessary.
The handle with a force zone with integrated soft zones ensures the transmission of high loosening and tightening torques. The precision zone, on the other hand, ensures the correct angle of rotation for adjustment work.
The Wera Black-Point tip offers precision fit and optimised corrosion protection.
The set comes with a practical rack for neat storage of the screwdrivers.
Specifications:
Function:

screwdriver

Size:

Phillips: PH 000 x 40 mm, PH 00 x 40 mm, PH 0 x 40 mm / Torx: TX 8 x 60 mm, TX 10 x 60 mm / IPR-Torx: IPR x 44 mm / Flat-Head: 0.23 x 1.5 x 40 mm, 0.35 x 2.5 x 40 mm / Hex: 2.5 x 60 mm, 3.0 x 60 mm / Microstix: mx40 / Lifter: 1.0 x 3.5 x 50 mm

Type:

flat-head screwdriver, Phillips head screwdriver, internal Torx® screwdriver, hex screwdriver, lifter screwdriver, Microstix® screwdriver
Features:
with roll-off protection and rotatable cap
multi-component Kraftform Micro handle enables fast and ergonomic working
the set comes in a robust bag
suitable for docking to Wera2go system
Technology:
Kraftform - The shape that made the hand
The whole hand makes contact with the handle. The smooth, hard zones glide through the hand like wheels when gripping and enable particularly high working speeds.
The grippy, soft zones are optimal contact surfaces for the hand and enable high power transmission.
Manufacturer Number:
05073677001
Contents:
3 x Wera 2050 PH Micro Phillips head screwdrivers for Phillips recess screws (PH 000 x 40 mm, PH 00 x 40 mm, PH 0 x 40 mm)
2 x Wera 2067 TORX® BO Micro screwdrivers for Torx® screws (TX8 x 60 mm, TX10 x 60 mm)
1 x Wera 2067 IPR Micro screwdriver (IPR x 44 mm)
2 x Wera 2035 Micro flat-head screwdriver for flat-head screws (0.23 x 1.5 x 40 mm / 0.35 x 2.5 x 40 mm)
2 x Wera 2069 Micro screws for hex screws (2.5 x 60 mm, 3.0 x 60 mm)
1 x Wera 2072 screwdriver for Microstix® screws (mx40)
1 x Wera 1429 lifter (1.0 x 3.5 x 50 mm)
Weight:
black-green/universal: 364 g
100 day return period

Online since 1998

Trusted Shop

4.89

/ 5.00