It's common knowledge among all serious cyclists: your summer form is perfected during winter. No matter how cold, dark and wet it can get outside during autumn and winter, you've got to keep moving to maintain your shape. Trainers and rollers offer the ultimate solution. With a wide array of models to choose from, equipment set-ups (and also prices) vary considerably. There's something for everyone--yes, even you! Here's how to find your ideal set of rollers or trainer:
Basically, trainers differ in their design and equipment. Almost all types of equipment are available in almost any design. That said, we recommend that you first settle on a certain design, then select the model that offers the features that are the most relevant to the type of training you do.
Top of the Class: Smart Trainers
At the top of the class are without a doubt Ergometers. They are complete stationary bikes which only require you to attach a pair of pedals and your favourite saddle. Once everything is set up, ergonomically-adjusted and configured to your desired settings, the trainer is always ready to use at a moment's notice. The Neo Bike Smart T8000 from Tacx allows for (limited) operation without a power supply, while the KICKR Bike from Wahoo gives you the finest gradation of crank lengths and the SB20 Smart Bike from Stages boasts a wide adjustment range suitable for riders measuring from 1.47 to 2.08 metres in height, and can generously support up to 158 kilograms in weight.
Smart trainers are correspondingly larger and heavier, and remain stable even under a full load. The caveat with using one is that you must have a sufficient amount of space specifically reserved for it, as you won't really be able to move it once installed. However, smart trainers are hugely beneficial to frequent riders since they offer perfectly-optimised ergonomics (including one-time tilt adjustment) and are always ready-to-use without additional set-up time.
Direct Drive for a Good Riding Experience
More manageable than smart trainers are those equipped with direct drive, which are also available in collapsible versions to save on space. They do, however, require a certain amount of modification. This is because these rollers are equipped with a fly wheel with a freehub body on which you mount a cassette and replace the rear wheel on your bike. The direct drive of the fly wheel (without the rear wheel serving as a mediator) provides a very firm feeling while riding, and is not adversely affected by the rear wheel's lack of stiffness or by the tyre's profile or air pressure.
Before buying, you must first make sure that the cassette and axle mounts are compatible with your bike. Tacx and Wahoo offer the widest selection of axle widths and mounts.
If you want to ride with different wheels on the same rollers, you may have to make certain modifications. In terms of wheel size, trainers from Tacx (Neo 2T Smart T2875 and Flux S Smart T2900S) and the H3 Smart from Saris offer the greatest variability.
They are suited for bikes with wheels ranging from 20 to 29 inches. Standalone models, such as the KICKR V5 from Wahoo, also allow sideways movement and thus offer a riding experience which is almost like being outside. Generally speaking, you should always refer to the user manual from your bike's manufacturer to make sure your bike can be used with trainers and rollers.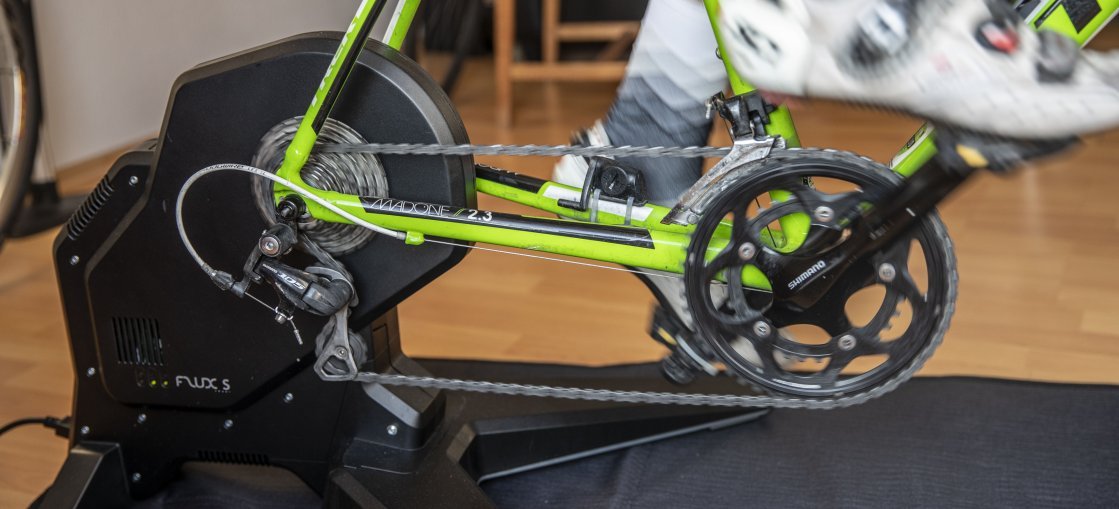 Fixed Rollers: Jumpstart with Rear Wheel Clamping
Fixed rollers need less work to set up, and only require you to clamp on the rear wheel firmly so that it transfers the force to the rollers. Make sure to be aware of high tyre pressure and low tread, which will help to ensure an accurate and comfortable riding experience. It is best to use a tyre developed for use with rollers such as the Insider Performance from Schwalbe or VittoriasZaffiro Pro Home Trainer. Fixed rollers are very common due to their affordability and functionality. The most inexpensive models are made by Tacx (Blue Matic T2650) and Elite (Novo Force). A real eye-catcher among fixed rollers is the Tuo by Elite, which comes with beechwood legs and a brushed metal casing.
Vintage Training: Freestanding Rollers
So-called freestanding rollers come with the advantage not having to attach or mount the bike to the trainer. This lets you start training rather quickly and doesn't pose any issue in terms of your bike's compatibility (for example, whether the trainer's clamp syncs up with the bike's axle attachment), as any bike can be used on a set of freestanding rollers. However, freestanding rollers require more focus and concentration, as you'll also need to work to keep your balance. Elite has increased the diameter of the outer edges of its freestanding rollers ("parabolic rollers"), which makes riding much easier.
For Frequent Travellers and Tiny House Dwellers
In this case, honourable mention goes to the Omnium Portable from Feedback Sports: it lets you clamp on the bike at the fork while the rear wheel runs on two rollers like that of a freestanding roller. Weighing in at just 6.36 kilograms, it's relatively lightweight and, when collapsed, it's hardly larger than a violin case. This makes it the ideal set of rollers for nomads and tiny apartment or house residents.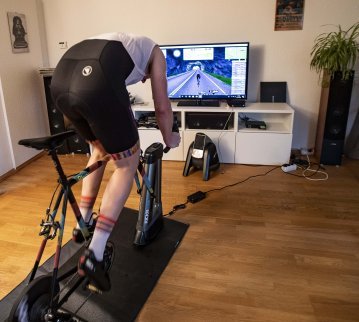 Location: Pop-Up Training or "Pain Cave"?
It's possible to work out anywhere on trainers and rollers: apartment, cellar, garage, on a balcony, in your laundry room or even in the driveway. As you understand your limitations best, it should be easy to find a suitable trainer or set of rollers. If you have to set up your equipment for every ride and are working with limited space, then collapsible trainers are the perfect choice. These are available in entry-level models, such as those from Elite (Novo Force), to high-tech models such as the KICKR V5 from Wahoo.
The most ideal solution, of course, is to have your equipment permanently installed in a separate room or other indoor area. Some refer to such spaces, often decorated with aspirational posters or wall art, as a "pain cave." If yours is anything like a real cave, this area would probably not have a window nearby, in which case a fan will soon become your best friend. Wahoo offers the KICKR HEADWIND , which can even be paired with a training computer via ANT+ or Bluetooth to adjust the fan's flow during your ride.
Mats, etc. - Accessories for the Perfect Training Experience
Having a mat placed underneath rollers is useful for two reasons. If you sweat a lot, there's usually no breeze or wind indoors to blow away excess moisture. Whether you're using your trainer on fine parquet or hard concrete, a mat will protect the floor underneath and can be easily washed after a workout. In addition, a mat dampens vibrations and noise, which not only makes riding more pleasant but also helps you stay in your neighbours' good graces. Wahoo offers the largest of this type of mat (KICKR Floor Mat ), while the Floor Mat from Feedback Sports is the most affordable.
To protect your bike's top tube and other parts from corrosion, Elite offers the Protec Plus sweat catcher.
Measuring Performance During Indoor Training
A power meter is the key to truly effective training. If your bike is already equipped with power measuring, you should opt for a trainer that can be integrated into your existing system. If you don't yet have a power measuring system, it's good to invest in one as well as a trainer at the same time, since it will help you to adjust levels precisely during interval training on rollers.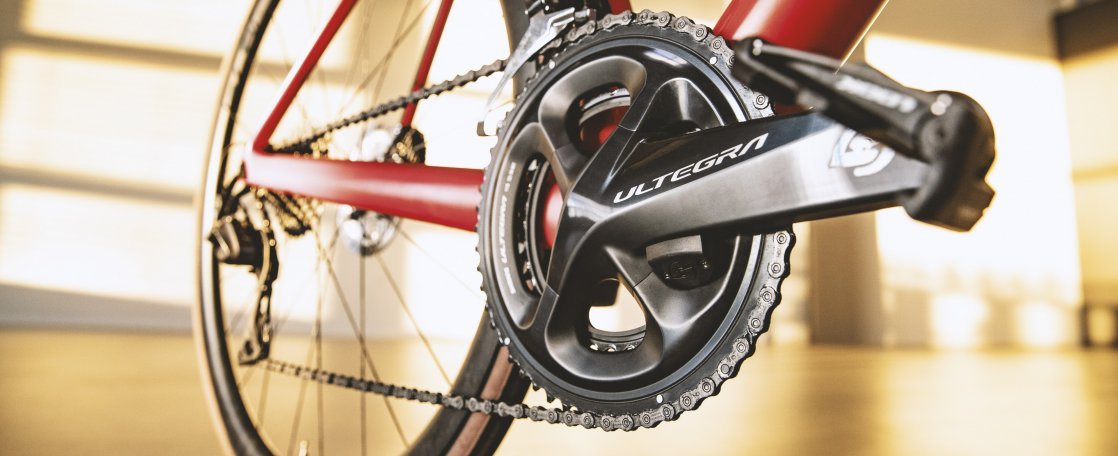 Brake Power and Gradient Simulation
Brake power correlates directly to your own performance and your training style. The more in shape you are and the earlier you ride at high intensity intervals during training, the more braking power your trainer should have. At the top of the class is the Direto XR from Elite with 2,300 watts, as the simulated gradient hits the same notch. The Neo 2T Smart T2875 from Tacx is a steep 25 percent and Wahoo offers the gradient simulator KICKR Climb as an accessory, which interacts with rollers such as the KICKR SNAP17 and KICKR CORE.
Data Transfer and Training Logs for Smart Training
If you want to combine devices (such as a power meter, smartphone, heart rate belt, etc.) with your rollers, make sure you're paying enough attention to compatibility. We have "Training Log" and "Data Transfer" filters on our website to help you narrow your search.

Solo Riding or Virtual Peloton: Internet Connectivity
The transition from rollers to E-sports (Zwift etc.) is a rather fluid one. If you find the option appealing, choose a set of rollers with compatible connectivity, such as the Suito from Elite.
Above all, training shouldn't be boring, which is why many people enjoy listening to podcasts or streaming videos on Netflix or other platforms while working out. For this reason, Tacx offers a Handlebar Mount for Tablets in its range that fits all handlebars with a diameter measuring between 25 and 35 mm. The Posa display stand from Elite can bear equipment weighing up to five kilograms and can be freely positioned next to the trainer. If you'd prefer not to stream media and would rather check your email inbox, the Fitness Bike Desk from Wahoo is an ideal "workspace".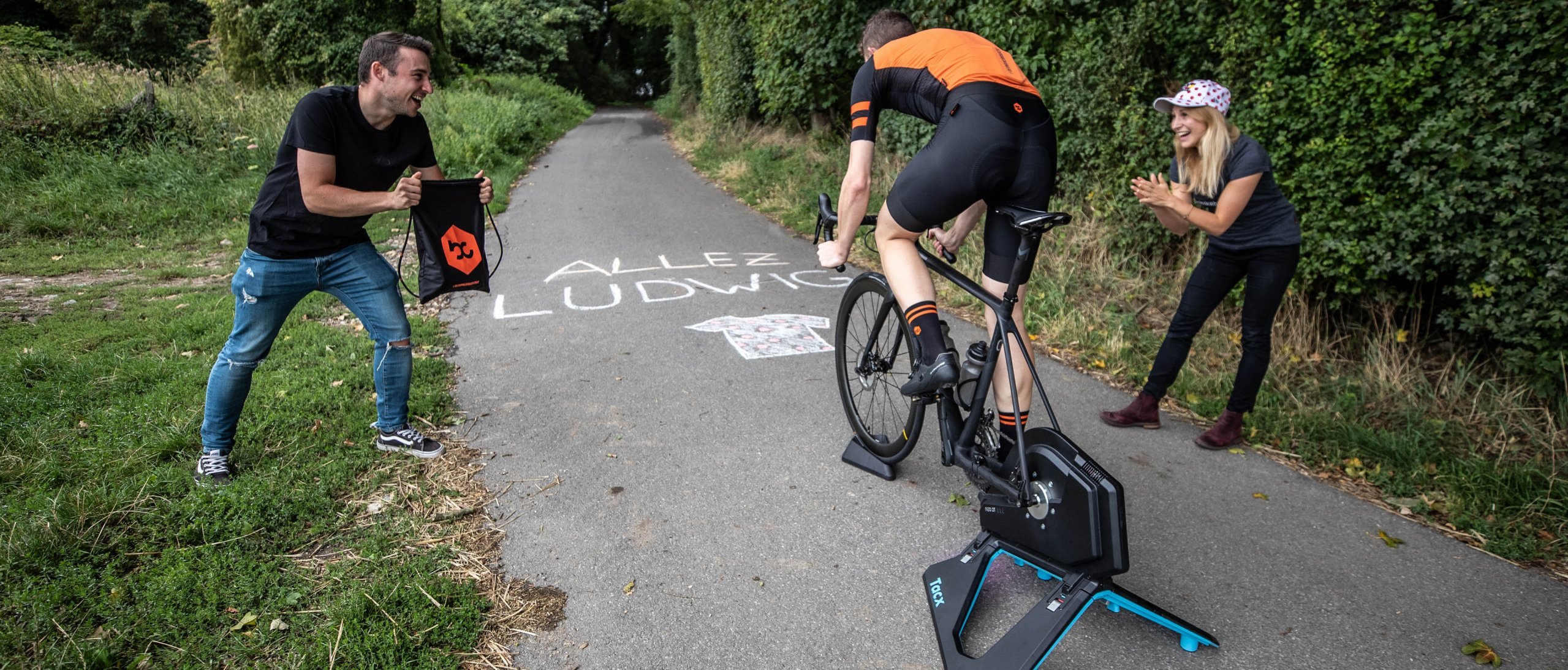 With the right equipment, indoor training feels almost like cycling on the road.