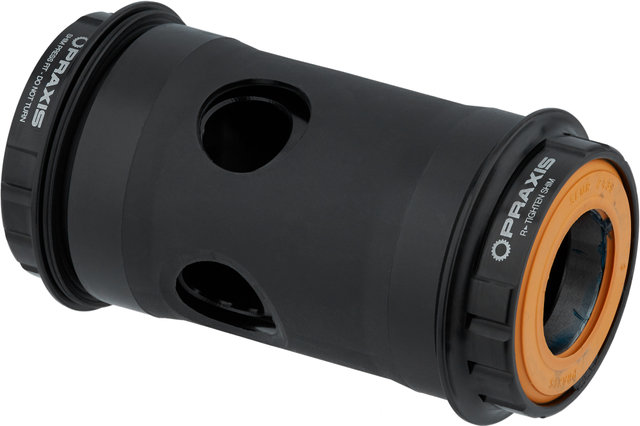 Praxis Works Shimano Road BB30 / PF30 conversion steel bottom bracket
A sophisticated solution: the Shimano Road conversion bottom bracket from Praxis Works
Praxis Works offers a solution for installing Shimano cranks (24 mm axle, Hollowtech II) onto BB30, PF30 and Specialized OSBB frames. The patented system is a complete and high-quality bottom bracket which guarantees a secure and perfect fit. It dispenses with wobbly or imprecise spacers and adapters that can cause cracking noises or premature wear on the bearing. This is why many well-known wheel manufacturers rely on these bottom brackets.
Specifications:
Application:

Road

Series:

Conversion BB

Type:

BB30, Pressfit PF30, OSBB

Shell Diameter:

42 mm, 46 mm

Shell Width:

68 mm

Axle Diameter:

24 mm (Hollowtech II)
Technical Information:
Bearings:

steel (Enduro 2437)

Bottom Bracket Cup Material:

aluminium (7075-T6)
Compatibility:
for fitting Shimano Hollowtech II cranks to BB30 and PF30 68 mm road frames
also for Specialized OSBB Road frames with aluminium bottom bracket shells and removable BB30 C-clips
for braze-on, clamp and direct mount front derailleurs, not for E-type/bottom bracket mount
not for BB30A, BBRight, BB386EVO, BB86, BB92 or Specialized OSBB frames with carbon bottom bracket shells
not for MTB cranks
bottom bracket tool with 16 teeth and 44 mm inner diameter required
Features:
chainline matched exactly to Shimano
cups made of forged and machined heat-treated aluminium
patented sleeve design: bearing cup with integrated sleeve on the non-drive side for a smooth fit
O-ring on non-drive side compensates for frame discrepancies
orange elastomer ring for drive side
Technology:
Conversion BB
Conversion bottom brackets from Praxis Works are the leading bottom bracket solution for all Shimano, Campagnolo Ultra Torque or SRAM GXP cranks. They fit BB30, PF30 or Specialized OSBB frames. Patented Praxis Works technology not only neutralizes all tolerances from frame manufacturers, but also guarantees an increased service life. In Praxis Collet bottom brackets, the non-drive side is pressed in and then the drive side is screwed into it. When screwed together, the bearing expands to a defined end position, which corresponds to the respective press fit, and sits tight without creaking. Additionally, an orange elastomer rubber ring is compressed in the drive direction, which in turn expands towards the frame, thereby jamming the bearing once again. The elastomer material compensates for tolerances while simultaneously muffling any cracking noises.
Manufacturer Number:
68-3001R
Contents:
1 x Praxis Works Conversion BB left bearing cup, incl. bearings bottom bracket sleeve
1 x Praxis Works Conversion BB right bearing cup, incl. bearings
1 x Praxis Works PF30 bottom bracket sleeve
1 x rubber rind for drive side, orange
1 x O-ring for non-drive side
1 x compression ring
2 x bearing cover
100 day return period

Online since 1998

Trusted Shop

4.89

/ 5.00