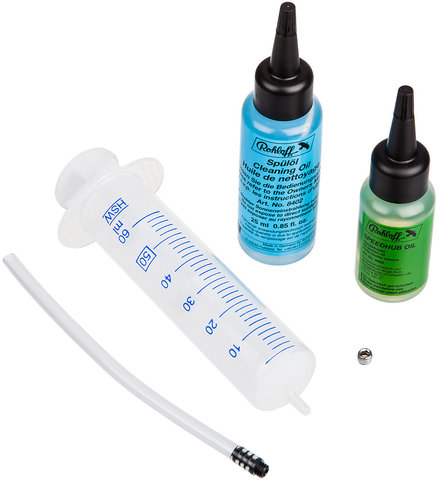 The Rohloff Oil Change Set - Gear lubricant for Speedhub
Once a year or every 5000 km, Rohloff recommends an oil change for the Speedhub. This ensures that in the event of oil loss due to condensation oil, there is always a sufficient quantity of oil in the gearbox, and any abrasion or water that has penetrated is flushed out.
Only Rohloff oils (gear oils/cleaning oils) may be filled into the Rohloff Speedhub 500/14. Filling with other liquids or additives can cause damage to transmission parts (e.g. plastic parts).
Specifications:
Speedhub Oil:
Designation:

Speedhub Oil Ganzjahresöl

Application:

Oil change
Flushing Oil:
Designation:

Spülöl

Application:

Oil change
Features:
set with 25 ml flushing oil in 50 ml bottle and 25 ml Rohloff Speedhub Oil
including oil filler tube, disposable syringe (50 ml) and oil drain plug with sealant
Note from the manufacturer:
Since the cleaning oil is added to the oil in the hub for the flushing process, there is just under 50 ml of oil in the hub before the extraction process. For disposal, the entire extraction quantity can be filled into the 50 ml cleaning oil bottle.
Attach the oil filler tube to the disposable syringe and secure the plug connection with a drop of superglue if necessary.
Further product details:
Speedhub Oil:
Hazardous Substance:
No marking required.
Manufacturer:
Rohloff AG
Mönchswiese 11
34233 Fuldatal
Germany
Tel.: +49 (0) 561 510800
Fax: +49 (0) 561 510815
E-mail: service@rohloff.de
Models:
Nominal Quantity: 25 ml
Packaging Type: dropper bottle
Flushing Oil:
Hazardous Substance:
No marking required.
Manufacturer:
Rohloff AG
Mönchswiese 11
34233 Fuldatal
Germany
Tel.: +49 (0) 561 510800
Fax: +49 (0) 561 510815
E-mail: service@rohloff.de
Models:
Nominal Quantity: 25 ml
Packaging Type: dropper bottle
Manufacturer Number:
8410
Contents:
Rohloff Oil Change Set, consisting of:
1 x Rohloff flushing oil (25 ml) in 50 ml bottle
1 x Rohloff All-Season Oil (25 ml)
1 x Rohloff disposable syringe
1 x Rohloff oil filler hose
1 x Rohloff oil drain plug
100 day return period

Online since 1998

Trusted Shop

4.89

/ 5.00