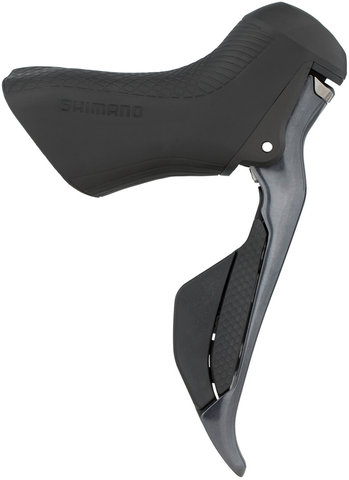 Shimano Ultegra Di2 STI ST-R8070 2-/11-speed Shift/Brake Lever
The Ultegra Di2 ST-R8070 Shift/Brake Lever by Shimano - More control when braking
The Shimano Ultegra Di2 ST-R8070 shift/brake lever enables intuitive electronic shifting (2-speed or 11-speed) and provides clear tactile feedback that can be felt even with thicker gloves. At the same time, it can be used to operate a hydraulic disc brake, so that the rider can rely on full brake control in all weather conditions and even on the steepest descents. The reduced bar end circumference should be emphasized, which contributes to ergonomics and grip comfort. Grip width and press points are adjustable. The ST-R8070 STI Dual Control lever can also be individually programmed via the E-Tube platform.
Information regarding the return of batteries and electrical equipment:
Information on the return and disposal of batteries and electrical equipment can be found
here
.
Specifications:
Series:

Ultegra Di2 R8050

Application:

Road, Cyclocross

Gearing:

2x, 11-speed

Shifting System:

electronic

Brake Type:

hydraulic
Technical Information:
Brake Lever Material:

aluminium

Lever Body Material:

carbon (CFRP)

Hose:

SM-BH90-JK-SSR (not included)

Actuation:

mineral oil

Mount:

clamp (closed)

Reach Adjust:

bolt

Adjustment Options:

reach adjust, contact point
Compatibility:
Clamp Diameter:

23.8 - 24.2 mm

Power Cable:

EW-SD50 (2 x connection)

Front Derailleur:

FD-R9150, FD-R8050, FD-9070, FD-6870, FD-RX815

Crank:

FC-R9100, FC-R9100-P, FC-R8000, FC-R7000, FC-RS510, FC-9000, FC-6800, FC-5800, FC-RS500, FC-U5000-2, FC-RX810-2, FC-RX600-11

Rear Derailleur:

RD-R9150, RD-R8050, RD-9070, RD-6870, RD-RX805, RD-RX815, RD-RX817

Cassette:

CS-R9100, CS-9000, CS-6800, CS-5800, CS-R8000, CS-HG800-11, CS-R7000, CS-HG700-11, CS-M8000-11, CS-M7000-11, CS-M5100-11

Chain:

CN-9000, CN-6800, CN-HG901-11, CN-HG701-11, CN-HG601-11, CN-LG500

Brake Caliper:

BR-R8070 (recommended), BR-R9170, BR-R9270, BR-R9170, BR-R8170, BR-R7170, BR-R7070, BR-RS785, BR-RX820, BR-RX820-LE, BR-RX810, BR-RX400, BR-4770

Additional Brake Lever:

BL-RX812
Features:
defined tactile feedback and clearer separation between the shift buttons for more intuitive shifting, even with thick gloves
programmable gearing
Multi-Shift can be switched on or off separately for each shifter
remote control shifter programmable for third-party bicycle computers or shifts
reduced hydraulic inner workings to adjust the ergonomics of disc and rim brake builds
extended reach adjustment
multiple input: hold
E-Tube project ensures firmware updates
straight hose connection
funnel venting with M7 funnel (TL-BR002)
shifter made of GFRP, main cylinder made of CFRP, brake lever painted
Technology:
STI Dual Control
Shimano Total Integration (STI) means the combination of braking and shifting functions in one lever, which increases safety when riding. By refining the technology, it became possible to make shifting so smooth at the front and rear that they can be triggered with just one finger. Shimano calls such levers Dual Control Levers (DCL).
Digital Integrated Intelligence (Di2)
Di2 systems are the electronic shifting systems from Shimano. They are based on the SEIS, the Shimano Electronic Intelligent System, which takes over the index shifting function from the mechanical components, only via power cables or radio signals and not via a Bowden cable. Shifting is done by simply pressing a button. This has the advantage that no great effort is required, your concentration on the ride is not disturbed and operation is easy even with cold hands. In addition, the electronic gear changes are very fast and highly precise. There is also no risk of a defective circuit due to dirty cables or other problems. You can adjust individual settings via the E-Tube Project, such as adjusting the shifting speed, the number of shifting operations per button press or the Synchro or Semi-Synchro shifting function. Shimano offers an app for this purpose. Gear maintenance and firmware updates are also done via E-Tube, with the bike connected to a PC running the appropriate E-Tube software for more extensive workshop work.
Models:
2-speed:
Mount:

left

Manufacturer Number:

I-STR8070L
11-speed:
Mount:

right

Manufacturer Number:

I-STR8070R
Contents:
1 x Shimano Ultegra Di2 ST-R8070 shift/brake lever
1 x Shimano TL-EW02 plug tool (11-speed version only)
Weight:
black/2-speed: 180 g
black/11-speed: 180 g
100 day return period

Online since 1998

Trusted Shop

4.89

/ 5.00