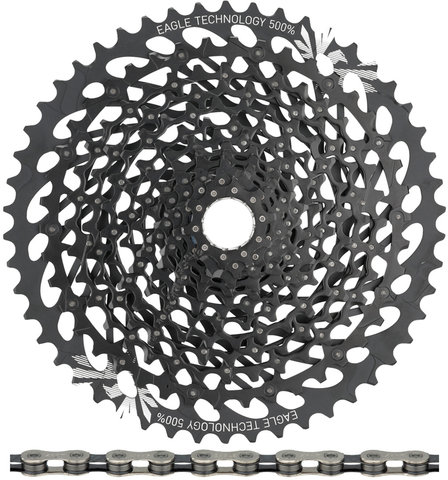 SRAM GX Eagle XG-1275 Cassette + Eagle Chain 12-speed Wear Kit
The GX Eagle XG-1275 cassette and Eagle chain set by SRAM for 12-speed is the optimal combination of performance and precision
The SRAM wear set for 12-speed drivetrains consists of the GX Eagle XG-1275 cassette and the PC XX1 Eagle or the PC GX Eagle chain, depending on what you choose.
The SRAM XG-1275 cassette for GX Eagle has 12 shifting levels for riders who value reliability and durability. With its open design , mud and dirt do not stand a chance. The FULL-PIN™ technology, which combines light, precision machined steel sprockets with high-resistance stainless steel pins, results in a lighter, robust cassette with good self-cleaning abilities, smooth shifting and high durability. With 10-52 teeth, you get a huge range that will give you the right gear for even the toughest climbs. Or would you like to switch to a larger chainring and reach higher speeds without compromising the climbing ability? You have all the options!
The SRAM PC XX1 chain is made for Eagle 12-speed drives and stands out on your mountain bike with a light, durable design and different color options. Hollow pins make the chain light, while Flow Link™ technology with smooth, flat link plates ensures precise, smooth shifting and silent operation. The chain is uncompromisingly strong without any loss of performance and extremely wear-resistant. Even aesthetes get their money's worth thanks to the colour selection matched to Eagle components.
The SRAM PC GX chain is designed for Eagle 12-speed drivetrains and is characterised by reliable, smooth gear changes, high durability and wear resistance on cassette and chainrings.
Guidelines for Replacing E-bike Components:
Before you replace components on your e-bike, please read through the
guidelines
for component replacement for CE-marked E-bikes/pedelecs with pedal assistance.
Specifications:
Application:

Cross Country, All Mountain

Gearing:

12-speed

Freehub Compatibility:

SRAM XD
Technical Information - Cassette:
Series:

GX Eagle

Sprocket Material:

steel (sprockets 1 - 11), aluminium (sprocket 12)

Gradation:

10-50, 10-52
Technical Information - Chain:
Number of Links:

126

Closure Type:

PowerLock™

Pin Type:

XX1: hollow (Hollow Pins), GX: solid

Directional:

no (chain), yes (master link)

Material:

steel
Compatibility:
10-50:
electronic XX1/X01 Eagle AXS 12-speed rear derailleurs
mechanical XX1/X01/GX/SX/NX Eagle 12-speed rear derailleurs, all models
10-52:
electronic XX1/X01 Eagle AXS 12-speed rear derailleurs
Features:
Cassette
large range of 520 % with 10-52 teeth
optimised switching stages over the entire range
open,mud resistant design
colour-coordinated with Eagle components
Chain
chrome-plated inner plate with PVD coating (XX1 only)
burnished inner plate (GX only)
nickel-plated outer plates
outer plates with PVD coating (XX1 only)
Flow Link and Hard Chrome™ technologies for less wear
colour matching Eagle components
quiet and durable
strong PowerLock master link
Colour Index:
The colour designation consists of the colour of the cassette in the first place and series and colour of the chain in the second place.
rainbow:

coloured

copper:

copper red
Technology:
FULL PIN™:
The FULL-PIN technology uses eleven lightweight sprockets made of pressed steel, which are securely held together by 123 pins made of high-strength steel. The result is an extremely light and durable cassette that is perfect for any ride with an ultra-wide gear ratio. Similar to the X-DOME™ cassette, the open design keeps out mud and dirt while ensuring clean shifts and long component life.
X-Glide 2™:
The X-Glide 2 is the next generation of X-Glide technology. It has been specially optimised for the Eagle 12-speed cassette - for fast and precise shifting performance in all gears. X-Glide technology increases chain tension on the larger sprockets.
Flow Link™:
The ultra smooth inner plates of the chain are completely edge-free. This reduces friction on the cassette and chainring. The result: low-noise performance and longer component life. The chain design allows for a narrower profile. This way, the chain is much more torsion resistant. Due to their smooth outer flaps, the riveting is more uniform and the tensile strength is higher.
Hard Chrome™:
Chains with Hard Chrome have a four times higher (wear) resistance than other SRAM chains. This is due to the machining process for the inner links and rollers. The push-pin resistance and the overall resistance correspond to current SRAM chains. Chains with Hard Chrome last longer and are extremely stable.
PowerLock™
SRAM have developed PowerLock as a tool-free, safe and consistent way to connect SRAM chains. Although the PowerLock master link does not require any special tools for assembly, each PowerLock can only be used once due to the narrow tolerance range of modern drivetrains.
Models:
10-50:
Gradation:

10-12-14-16-18-21-24-28-32-36-42-50 T

Manufacturer Numbers:

00.2418.078.000 + 00.2518.024.020 (XX1 gold), 00.2518.030.011 (GX Eagle silver-black)
10-52:
Gradation:

10-12-14-16-18-21-24-28-32-36-42-52 T

Manufacturer Numbers:

00.2418.109.000 + 00.2518.024.020 (XX1 gold), 00.2518.043.010 (XX1 copper), 00.2518.024.021 (XX1 black), 00.2518.039.010 (XX1 rainbow) 00.2518.030.011 (GX Eagle silver-black)
Contents:
1 x SRAM XG-1275 cassette
1 x SRAM PC XX1 Eagle chain or PC GX Eagle
1 x SRAM PowerLock master link
100 day return period

Online since 1998

Trusted Shop

4.89

/ 5.00